We're adopting
A golden retriever. There is a group here in Louisville called GRRAND they foster goldens until they can be adopted by soft hearted people like my wife. Everytime she goes to their website she cries for these dogs. We put in our application and had our home visit this evening. A lady from GRRAND came out and did a home visit where she checked our home briefly and made sure we had a good fenced yard. She talked to us about their program and what they expect from us and what we can expect from them. The adoption fee covers spay/ neuter. They have a hotline if our dog gets out where they help you track them down. The dogs have microchips already. This weekend we'll go look at some puppies. They are 6 weeks old. If we like one we can take it home right then. They give us a weeks worth of dog food and a collar with a tag. They have their own vet who will call us to check in and help us get them in to be fixed when it's time. It's exciting because these little guys were abandoned just after being born and we get to give one a home. They don't know who the mom or dad are. Some body found them and gave them to GRRAND. GRRAND offers support for life with yearly activities and such for the dogs and their owners. If something were to ever happen we would have to give the dog back to them. No golden ever has to go to the pound and be killed. The kid is excited too. She's been begging for a pet for a while. Oh yeah, I almost forgot why we're getting a dog now. My wife was hired to be a therapist at a division of the group she is interning with now. She starts just before graduation. It's a good month at the Eakins house.
Edit: And the world shall know Lilly Von Blalden. She is a black golden mix. Her name may get changed since one of Brandy's friends has a daughter named Lilly and she was supposed to come over for a play date today.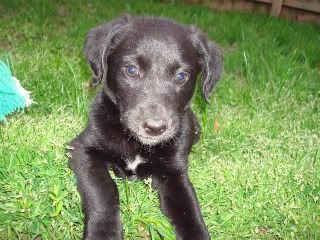 SO we show up and the foster lady is already crying. They had two. Lilly and Sammie both girls. The other dog was a true golden and was the runt of the litter. Lilly weighs 5 pounds Sammy weighs 2 pounds. We liked both but Lilly attached herself to us right away. The foster parents were not ready to give up Sammy yet. She has already pooped on the carpet twice and peed (sp?) once. The foster mom told us they had all been dropped off at the pound and were scheduled to be killed when they were rescued by GRRAND. Now not one of these 13 beautiful dogs will have to die. They will remain in foster care until they are adopted.